Local Guide To Living In Edgewater, Maryland
Posted by Brendan Spear on Thursday, September 28, 2023 at 10:30 PM
By Brendan Spear / September 28, 2023
Comment
Edgewater, a charming suburb with a rich history, is located just a short scenic drive away from Annapolis, accessible via the South River bridge. It boasts a close-knit small-town community of approximately 9,700 residents, where neighbors support each other, and local businesses warmly welcome their customers.Situated 8 miles south of Annapolis, 30 miles east of Washington D.C., and 34 pm a miles south of Baltimore, Edgewater's location makes it an easily accessible destination. One of its notable areas is London Town, surrounded by the picturesque South River, Almshouse Creek, and Glebe Bay.
The highlight here is the Historic London Town and Gardens, a 23-acre waterfront park featuring colonial-era buildings and a sprawling garden.
Visitors and locals alike can enjoy a variety of dining and shopping options in Edgewater, making it an ideal spot for a delightful day trip.
Beautiful Waterfront Location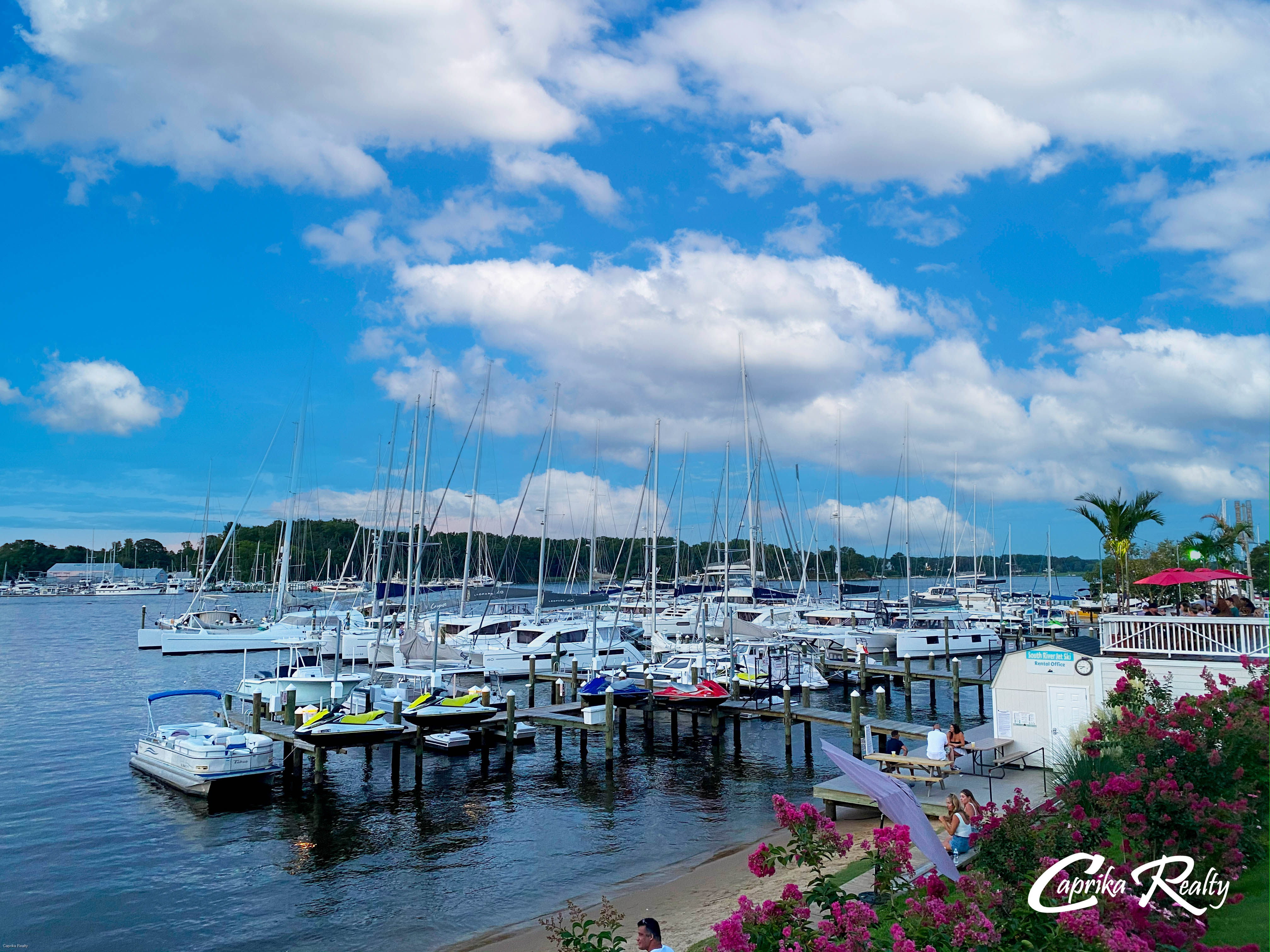 Edgewater's crowning glory is undeniably its prime location along the Chesapeake Bay. Situated just south of Annapolis, the state capital, the town boasts easy access to major cities like Baltimore and Washington D.C., making it an ideal destination for those seeking both tranquility and urban convenience. The Chesapeake Bay's gentle waters provide an idyllic backdrop to the community, lending an enchanting appeal that draws nature enthusiasts and water lovers alike.
For those who appreciate nature's splendor, Edgewater offers an array of scenic views that will take your breath away. From stunning sunrises painting the sky with hues of pink and orange to tranquil sunsets casting a golden glow over the water, the beauty here is simply unmatched. Residents can revel in the joy of waterfront living, with numerous properties gracing the bay's edge, allowing them to wake up to the soothing sound of gentle waves lapping against the shore.
Boating enthusiasts will find their haven in Edgewater, as the town boasts an array of boating opportunities. With a variety of marinas dotting the coastline, sailing aficionados can easily moor their vessels and set sail to explore the bay's many hidden treasures. Kayaking and paddleboarding are also popular activities, providing a chance to discover the abundant marine life and scenic coves that adorn the shoreline.
For those seeking leisurely water activities, Edgewater has it all. From fishing excursions that promise an unforgettable catch to lazy days spent lounging on sandy beaches, the town caters to all water-based interests. People can enjoy picnicking by the bay or indulging in fun-filled water sports, ensuring that everyone experiences the joys of waterfront living.
Proximity to Major Cities
One of its most significant advantages lies in its close proximity to major cities such as Annapolis, Baltimore, and Washington, D.C. Being just a short drive away, residents of Edgewater enjoy unparalleled convenience in accessing employment opportunities, events, and an array of entertainment options.
Easy Commute to Annapolis: Edgewater's strategic positioning places it just minutes away from the historic city of Annapolis, the state capital of Maryland. With a convenient commute to Annapolis, residents can immerse themselves in the city's rich colonial heritage, explore charming cobblestone streets, and dine at renowned seafood restaurants. For outdoor enthusiasts, the scenic Thomas Point Park provides picturesque walking trails and serene picnic spots.
Check out the official Visit Annapolis website for upcoming events, attractions, and opening hours.
A short drive to the vibrant city of Baltimore, offering an array of employment opportunities and fun experiences. Professionals can easily access Baltimore's thriving job market, especially in the fields of healthcare, technology, and education. Baltimore's Inner Harbor boasts a plethora of museums, including the fascinating National Aquarium, where marine enthusiasts can discover a diverse range of aquatic life. The city's eclectic arts scene offers theater performances, live music, and art galleries.
Proximity to Washington, D.C., Edgewater residents are also within reach of the nation's capital, Washington, D.C. A reasonable commute grants access to a myriad of educational and career opportunities, including government agencies, think tanks, and multinational corporations. During leisure time, visitors can explore iconic landmarks like the Washington Monument, the Smithsonian museums, and the historical Lincoln Memorial. D.C.'s bustling nightlife and culinary scene cater to all tastes..
Excellent School Districts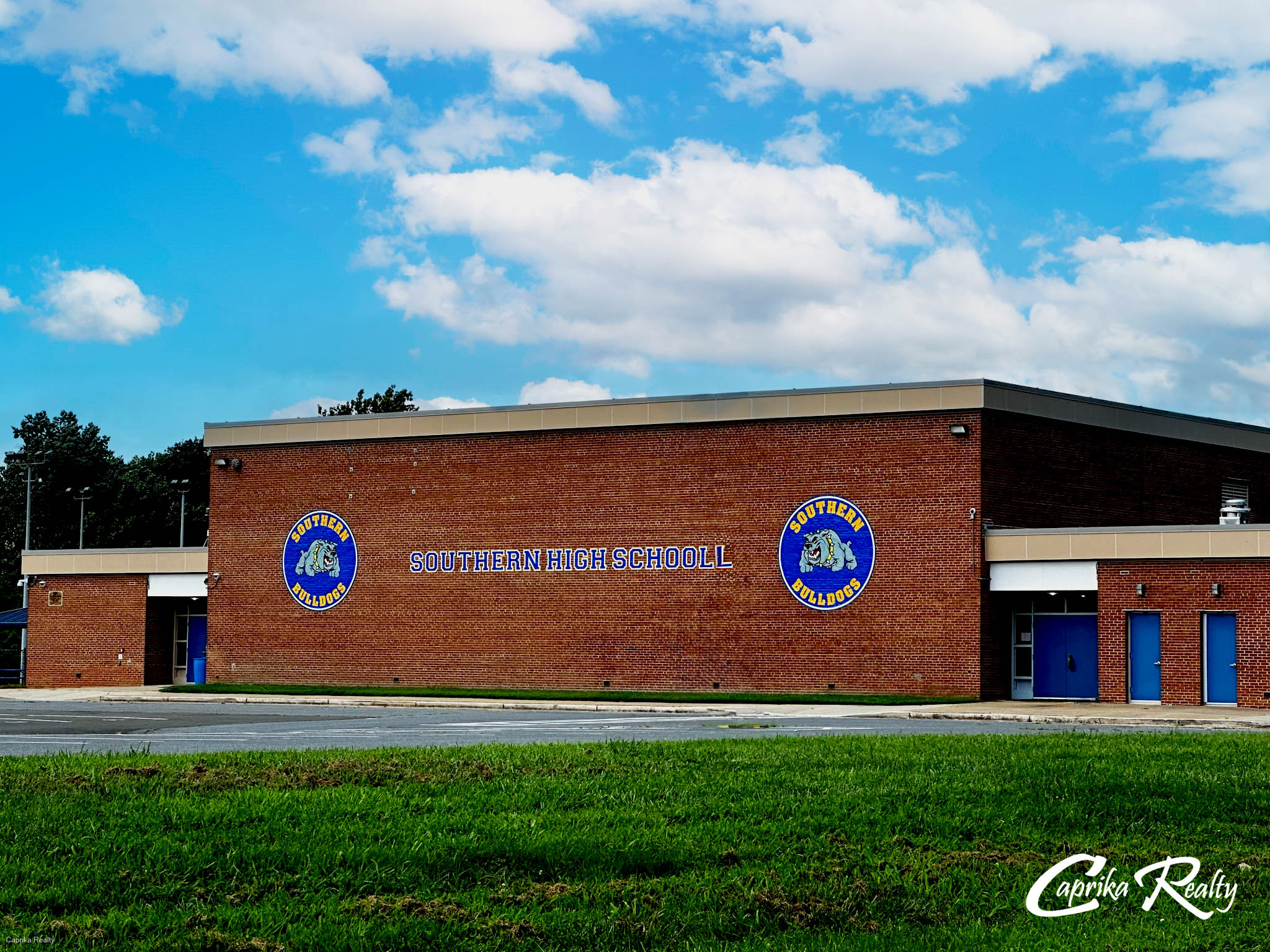 Edgewater, Maryland, is renowned for its excellent school districts, offering top-notch educational opportunities for students. Within the vicinity of Edgewater, there is a list of exceptional schools that contribute to the area's reputation for high-quality education. One notable institution is,
South River High School (Public School), located at 201 Central Avenue East, Edgewater, MD. This top-rated public school provides a well-rounded curriculum, featuring advanced placement courses and a wide range of extracurricular activities such as sports teams, arts clubs, and community service initiatives.
For further information, parents and students can contact the school at (410) 956-5600
Another gem in the educational landscape is Central Middle School (Public School), situated at 221 Central Avenue East, Edgewater, MD. This school prides itself on its dedicated teachers and innovative teaching methods that foster a love for learning in students. With a comprehensive academic program and diverse after-school programs, Central Middle School ensures that students receive a well-rounded education.
For inquiries and enrollment, interested parties can reach the school at (410) 956-5800
The positive impact of these top-notch public schools in Edgewater is immeasurable. Many people are drawn to the area for its exceptional education system, providing an ideal environment to thrive academically and personally.
But if you are looking for top-notch private schools in Maryland, This charming town also boasts an exceptional educational landscape, with prestigious institutions like London Towne Academy and Saint Andrew's Day School catering to the academic needs of the community.
London Towne Academy, nestled in the heart of Edgewater, offers a stimulating learning environment for students of all ages. Conveniently located at 211 Mayo Rd Edgewater, MD 21037, this renowned school takes pride in its comprehensive curriculum and dedicated faculty. Students at London Towne Academy engage in a wide range of enriching activities, including arts and sports programs that foster creativity and promote physical fitness.
For more information about London Towne Academy and its admission process, please call (410) 798-5128
Another gem in Edgewater's educational crown is Saint Andrew's Day School. Situated at 4B Wallace Manor Road Edgewater, MD 21037, this esteemed institution is synonymous with academic excellence and character development. Saint Andrew's Day School provides a nurturing atmosphere where students can thrive academically and personally. From extracurricular clubs to community service initiatives, students here are encouraged to explore their interests and contribute positively to society.
To explore the admission criteria and upcoming events at Saint Andrew's Day School,
For more information about Saint Andrews Day School and its admission process, please call
(410) 266-0952
Great Community & Recreation Opportunities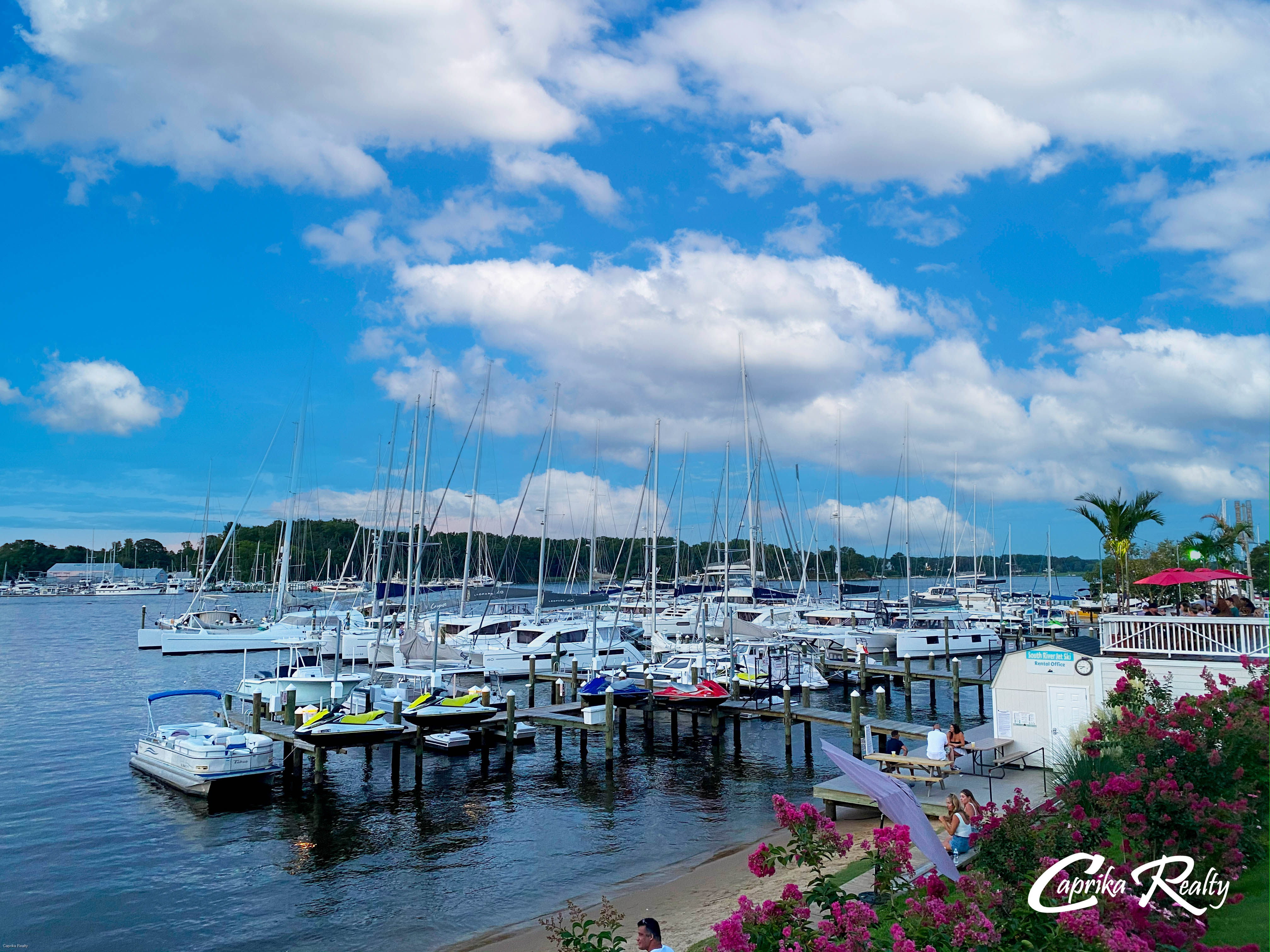 Edgewater, Maryland is a wonderful community nestled along the scenic shores of the South River! With its low crime rates and peaceful ambiance, Edgewater is the ideal haven for those seeking a place to call home. Edgewater boasts an array of parks that cater to various recreational interests, so there is something for everyone to enjoy.
One such gem is Edgewater Park. This picturesque park offers a host of activities, from playgrounds to well-maintained trails to explore. Pack a picnic and bask in the tranquility while enjoying stunning waterfront views.
Location: Pine Whiff Ave, Edgewater, MD 21037
Loch Haven Park is another beloved spot for locals. This charming park is a paradise for sports enthusiasts, with its spacious fields for soccer, baseball, and volleyball. The playgrounds are thoughtfully designed, providing hours of entertainment. Additionally, the park's convenient location near residential areas makes it easily accessible.
Location: 3424 Pocahontas Dr, Edgewater, MD 21037, United States | Operating Hours: 8:00 AM to 9:00 PM daily
For those with fur babies, Edgewater Dog Park is a true treasure. This dog-friendly haven is fully enclosed and equipped with separate areas for large and small dogs, ensuring a safe and enjoyable experience for everyone. Engaging play structures and agility equipment add to the excitement, making it a dog's paradise. Owners can bond while their furry companions frolic freely.
Location: 3399-3361 Glebe Heights Dr, Edgewater, MD 21037 | Operating Hours: 7:00 AM - 8:00PM
Lastly, South River Farms Park, located at 1952-1998 Shore Drive, provides residents with an immersive natural escape. This sprawling park features lush greenery, picnic areas, and walking paths that wind along the serene South River. Families can relish in birdwatching, fishing, or simply soaking up the tranquil atmosphere.
Location: 3553 Loch Haven Dr, Edgewater, MD 21037 | Operating Hours: 7:00 AM - 8:00PM
Edgewater, Maryland, offers a haven that prioritizes its residents' well-being. With a great community and an array of parks, such as Edgewater Park, Loch Haven Park, Edgewater Dog Park, and South River Farms Park and alot more, residents can create cherished memories in this delightful community. Edgewater welcomes everyone with open arms, promising an exceptional quality of life.
Diverse Dining and Shopping Options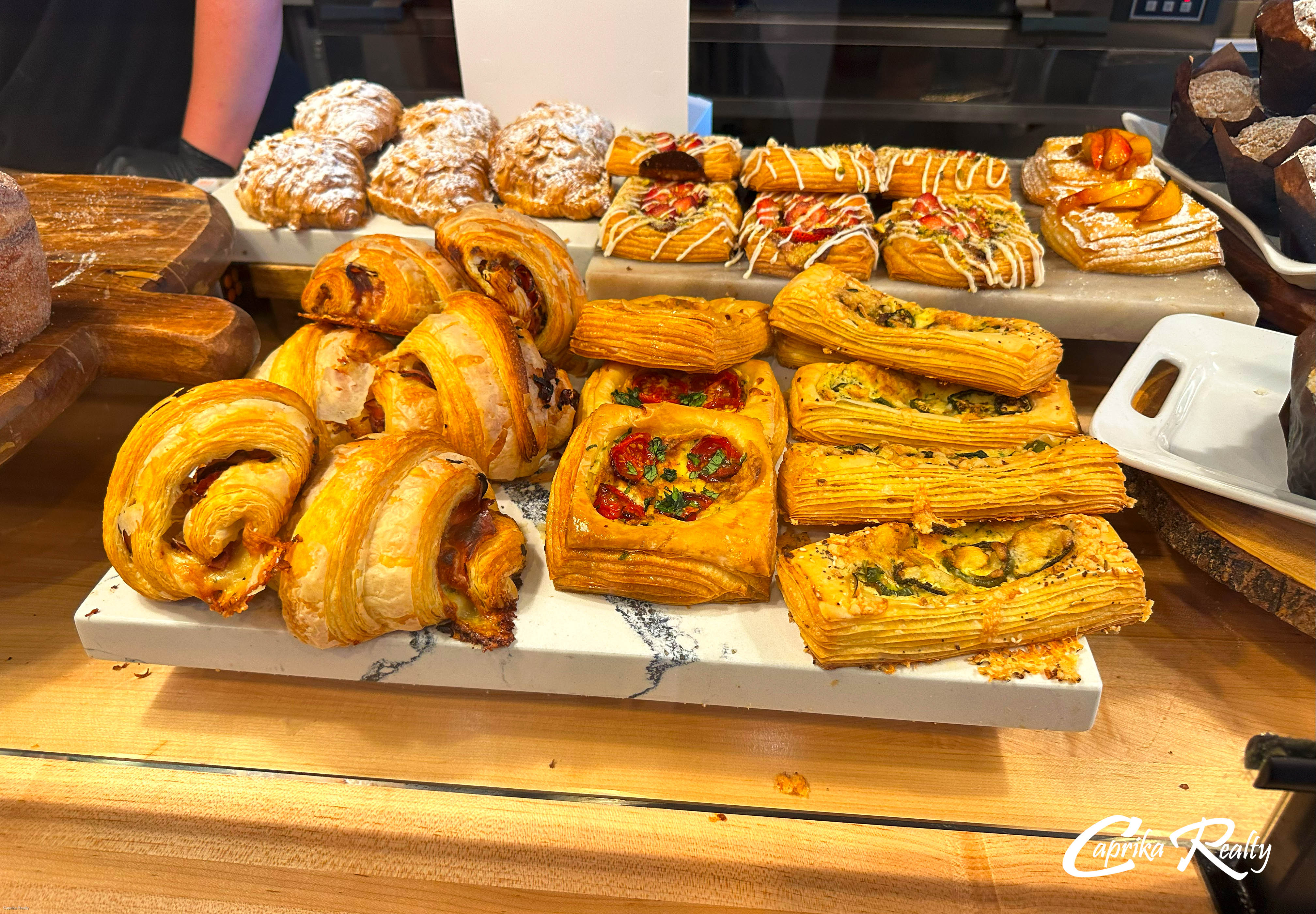 Nestled along the scenic Chesapeake Bay, Edgewater, Maryland, is a hidden gem boasting a vibrant culinary and shopping scene that caters to all tastes and preferences. When it comes to dining, the options are simply endless.
The Pier Waterfront Bar & Grill entices patrons with its delectable seafood dishes and breathtaking waterfront views. It features indoor-outdoor dining and three bars, including two Tiki Bars overlooking the South River, creating a fun atmosphere with live music and acoustic performances. Additionally, the venue offers both indoor and outdoor spaces available for your special events, such as birthdays, weddings and other special events.
Address: 48 S River Rd S #103, Edgewater, MD 21037, United States | Phone: +1 443-837-6057
M Thai Kitchen – Thai Cuisine If you're a connoisseur of Thai cuisine and find yourself in Edgewater, Maryland, look no further than M Thai Kitchen for an unforgettable dining experience. Nestled in the heart of Edgewater, M Thai Kitchen offers an array of mouthwatering dishes that showcase the rich flavors and vibrant spices of Thailand. M Thai Kitchen menu caters to various dietary preferences, offering a range of vegetarian and vegan options alongside classic meat dishes. Every dish is thoughtfully prepared, combining traditional recipes with a creative flair that elevates the flavors to new heights. With generous portions and affordable prices, M Thai Kitchen offers a remarkable value for the quality and taste you'll savor in every bite.
Address: 181 Mitchells Chance Rd, Edgewater, MD 21037, United States | Phone: +1 410-956-0952
Coopers Tavern Edgewater, Maryland, offers an extraordinary dining experience for those seeking a taste of local flavors and charm. Situated in the heart of this enchanting town, the tavern's cozy and inviting atmosphere creates the perfect setting for intimate gatherings or casual outings with friends. As soon as you step inside, the friendly staff welcomes you with genuine warmth, making you feel right at home. What truly sets Coopers Tavern apart is its impressive menu, featuring a delectable selection of dishes that cater to every palate.
Address: 173 Mitchells Chance Rd, Edgewater, MD 21037, United States | Phone: +1 443-837-6126
Broadneck Grill & Cantina As a premier Mexican restaurant in the area, Broadneck Grill & Cantina promises to take your taste buds on a tantalizing journey with their authentic and mouth watering Mexican dishes. Conveniently located in the heart of Edgewater.
Address: 74 W Central Ave, Edgewater, MD 21037, United States | Phone: +1 410-956-3366
Mike's Crab House If you're on the hunt for an unforgettable seafood experience in Edgewater, Maryland, look no further than the popular Mike's Crab House. The star of the show is, of course, the crabs. Indulge in their signature Maryland Blue Crabs, However, if crabs aren't your thing, fear not – their menu offers a wide array of other delectable seafood options, from juicy shrimp and tender lobster to flavorful fish dishes. Beyond the exceptional food, Mike's Crab House offers a warm and inviting atmosphere; the restaurant's staff's and nautical-themed decor create an ambiance that perfectly complements the coastal charm of Edgewater.
Address: 3030 Riva Rd Riva, MD 21140, United States | Phone: +1 410 956 2784
Sushi enthusiasts will be delighted with a visit to Fuji Hibachi Steakhouse & Sushi, where fresh and flavorful Japanese dishes await. Whether you're a sushi aficionado or a hibachi enthusiast, this restaurant caters to all palates with its diverse menu and skillfully crafted dishes.
For food enthusiasts looking to prepare their own gourmet delights, Edgewater also offers a plethora of local farmers' markets and specialty stores. These markets showcase the region's freshest produce and artisanal products, providing a unique shopping experience for visitors and locals alike. Look out for Edgewater's Farmers' Market on South River Colony Boulevard, where you can find organic fruits and vegetables, locally crafted cheeses, and other handcrafted delights.
Shopping options are also in no short supply. While the area offers some chain stores, part of what adds to Edgewaters charm are the smaller boutique shops. The Painted Cottage is the perfect place to locate a gift or stylish outfit.. Another unique store is The Twisted Bead, which sells beautiful crystals and jewelry making supplies. They also offer jewelry making classes for those who would like to learn more about this hobby. For one of a kind furniture pieces, or the materials needed to refurbish your own, look no further than The Red Dresser. This store is an authorized seller for Annie Sloan Chalk Paint and is another spot where you can take classes.
Whether you're a foodie or simply seeking a memorable shopping experience, Edgewater, Maryland has something to offer for everyone.
Rich Historical and Cultural Heritage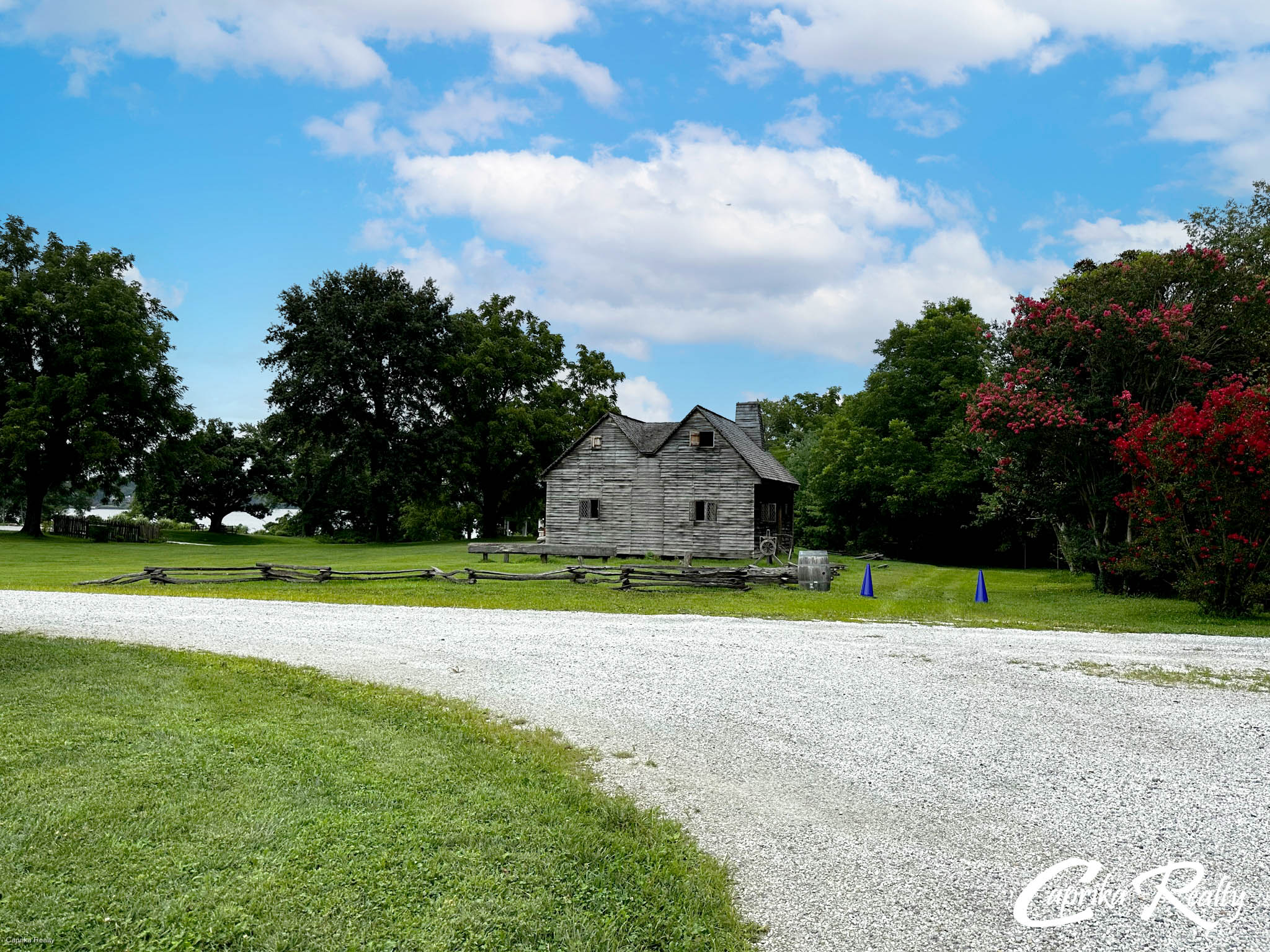 Nestled along the sparkling shores of the South River and Chesapeake Bay, Edgewater, Maryland, boasts a unique blend of rich historical significance and a thriving cultural scene that makes it a must-visit destination for history enthusiasts and culture seekers alike. The town's history dates back centuries, and remnants of its storied past are lovingly preserved in various landmarks and museums.
At the heart of Edgewater's historical charm lies the Historic London Town and Gardens, a true gem of the region. Once an 18th-century plantation and bustling colonial port, this living museum offers visitors an immersive journey through
time. Wander through the meticulously restored buildings, where knowledgeable guides transport you back to the days when London Town was a vibrant hub of commerce and social life. The lush gardens surrounding the historic structures are a treat to explore, showcasing an array of period-appropriate plantings and offering a serene retreat for visitors to enjoy.
Adding to the allure of Edgewater's historical heritage is the Galesville Heritage Museum, an institution dedicated to preserving the stories and artifacts of the town's maritime past. Dive deep into the maritime history of the area, learning about the brave watermen and the once-thriving oyster industry that shaped the community's identity.
Beyond its historical treasures, Edgewater comes alive with cultural events that celebrate the local heritage and foster a strong sense of community. Throughout the year, the town hosts a variety of festivals, each reflecting different aspects of its diverse cultural fabric. The South River Music Festival draws crowds with its eclectic lineup of musicians and bands, showcasing local talent and providing a platform for emerging artists to shine. The Edgewater Arts Festival is another highlight, where art enthusiasts can revel in a vibrant display of paintings, sculptures, and crafts from local artisans, capturing the essence of the town's creative spirit.
Embracing its maritime roots, Edgewater also hosts the annual Waterman's Festival, paying homage to the hardworking watermen and their contributions to the town's history and economy. Attendees can savor delicious seafood delicacies, learn traditional fishing techniques, and engage in activities that highlight the area's close connection with the water.
Edgewater, Maryland, is more than just a picturesque town; it is a living testament to the enduring spirit of its people and the preservation of its unique historical and cultural heritage. With its notable landmarks and museums offering glimpses into the past, and a vibrant cultural scene that celebrates its community, this charming town invites visitors to immerse themselves in an enriching experience that captivates both heart and mind.
Strong Community Involvement
Edgewater, Maryland, is a vibrant and tight-knit community known for its strong community involvement and sense of camaraderie among residents. This picturesque town on the shores of the South River boasts an impressive array of volunteer opportunities and community organizations that foster a closely connected neighborhood. From local environmental conservation initiatives to charity drives and community events,
Edgewater residents are actively engaged in making a positive impact!
The town's commitment to fostering a close-knit community is evident in its frequent neighborhood gatherings, farmers' markets, and recreational activities that bring people of the community together. Whether it's participating in local clean-up drives or supporting various social causes, Edgewater truly exemplifies the power of collective efforts and demonstrates that community involvement is the backbone of this charming Maryland town. If you're looking for a place where you can forge lasting connections and be part of something meaningful, Edgewater should be at the top of your list. Join this warm and welcoming community, and experience the fulfillment that comes from being part of a community that cares.
Real Estate and Affordability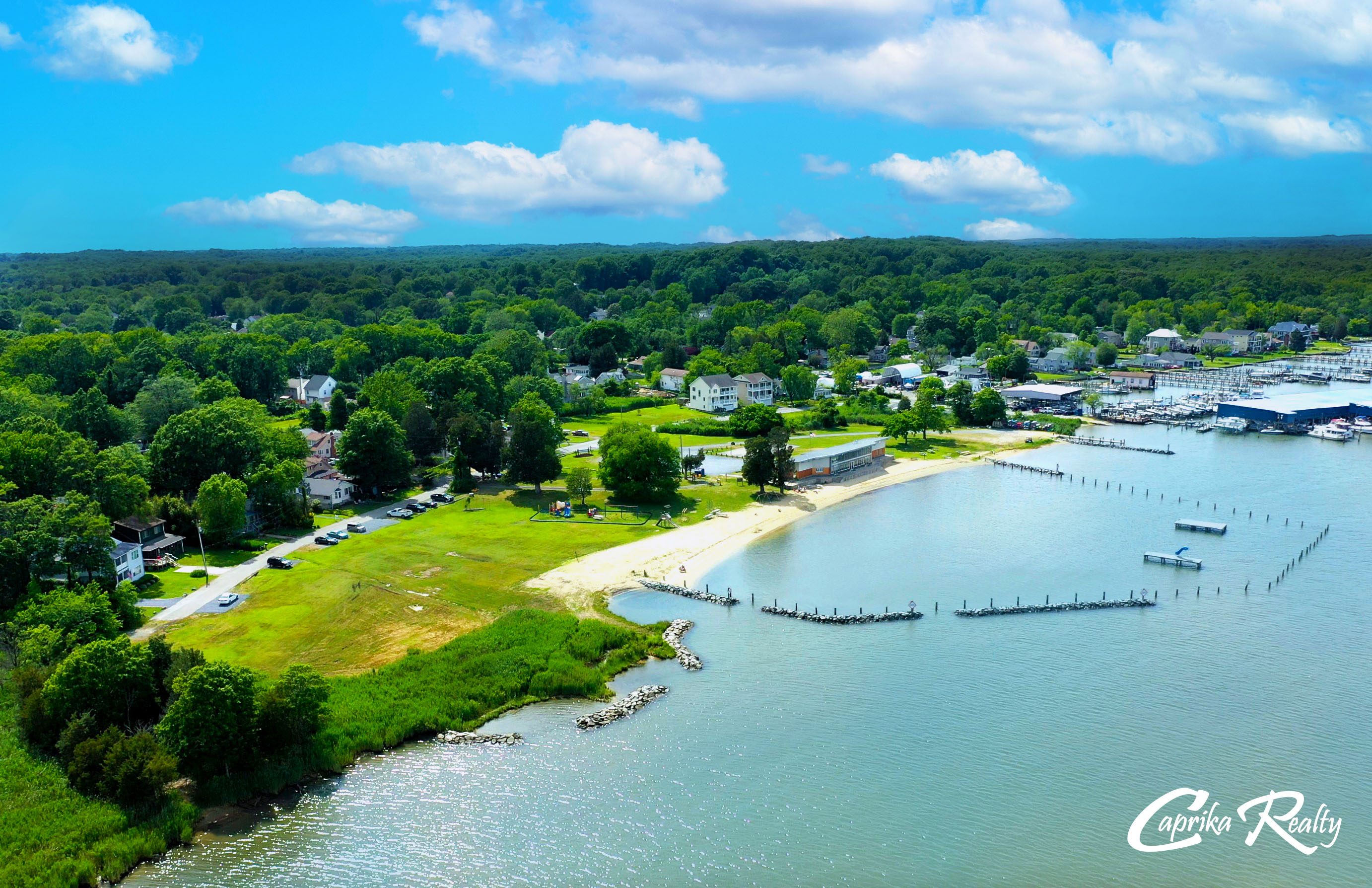 Edgewater, offers a prime real estate market that has been capturing the attention of both homebuyers and investors alike. With its picturesque waterfront views and a vibrant community, Edgewater has become a sought-after destination for those seeking a perfect blend of tranquility and convenience.
One of the key factors that sets Edgewater apart from its neighboring areas is its exceptional affordability. While nearby regions have experienced soaring property prices, Edgewater has managed to maintain a more reasonable cost of living without compromising on quality. For savvy investors, this presents a golden opportunity for a good return on investment.
Whether you are in search of a charming single-family home, a cozy townhouse, or a modern apartment, Edgewater offers a diverse range of housing options to cater to every taste and budget. The real estate market here is thriving, and it is no surprise that homebuyers are drawn to the area's serene ambiance, top-rated schools, and convenient access to major urban centers.
So, if you're on the lookout for a place that combines natural beauty, a strong sense of community, and promising investment potential, look no further than Edgewater, Maryland. Embrace the lifestyle you've always dreamed of without breaking the bank.
Come explore the myriad opportunities that await in this hidden gem of a town!
If you're considering a visit or a relocation to Edgewater, MD, don't hesitate to get in touch with us. We're here to provide guidance and support throughout your search for your dream home.
The information being provided by Bright MLS is for the consumer's personal, non-commercial use and may not be used for any purpose other than to identify prospective properties consumer may be interested in purchasing. Any information relating to real estate for sale referenced on this web site comes from the Internet Data Exchange (IDX) program of the Bright MLS. Caprika Realty is not a Multiple Listing Service (MLS), nor does it offer MLS access. This website is a service of Caprika Realty, a broker participant of Bright MLS. This web site may reference real estate listing(s) held by a brokerage firm other than the broker and/or agent who owns this web site.

The accuracy of all information, regardless of source, including but not limited to open house information, square footages and lot sizes, is deemed reliable but not guaranteed and should be personally verified through personal inspection by and/or with the appropriate professionals. The data contained herein is copyrighted by Bright MLS and is protected by all applicable copyright laws. Any unauthorized dissemination of this information is in violation of copyright laws and is strictly prohibited.

Copyright 2023 Bright MLS. All rights reserved.